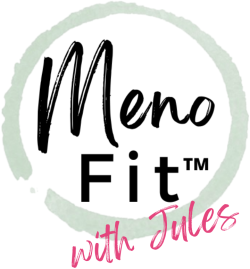 Menofit (TM) 14 Day Online Reset Programme
*NEW DATES TO BE ANNOUNCED - JOIN MY WAITLIST BELOW SO YOU'RE THE FIRST TO KNOW - LIMITED SPOTS!*
Hi, I'm Julia, a Menopause Coach, and I'd love to help you live & move more freely through your mid life.
If you answer yes to one or more of the questions below you've come to the right person!
Are you a woman over 35?
Doing 'all the things' but struggling to lose weight?
Ping ponging from one fitness fad to another but never sticking to anything?
Struggling to make exercise consistent?
No energy or motivation?
...or maybe, you just Need someone to cut through the crap and show you a simple way to get fit and stay fit?
I get it.  I used to flit from one shiny new fitness fad to another, but I struggled to keep it up. 
Even when I was consistent with my workouts, when I hit peri-menopause I found the old routines didn't have the same effect. 
I thought I was eating 'well',  doing loads of exercise, but my body didn't show the results like it used to.
Maybe you've experienced something similar in midlife?
And it wasn't just me –   my girlfriends  around the same age were noticing similar symptoms. 
My running buddies were complaining of midfriff weight gain;
Those aches and pains  which appeared from nowhere meant that lunges didn't feel great, and push ups were a pain;
Friends were suddenly hitting the wall mid afternoon and couldn't muster the energy for the gym;
Not to mention life laundry – caring for kids, elderly relatives, work, the home…those demands common in midlife just got in the way of regular exercise.
Perhaps this has happened to you?
My clients too  started asking me about hot flushes, new aches and pain, anxiety, sleep problems and brain fog, it dawned on me that we were all experiencing symptoms of peri-menopause.  
I needed to know the answers.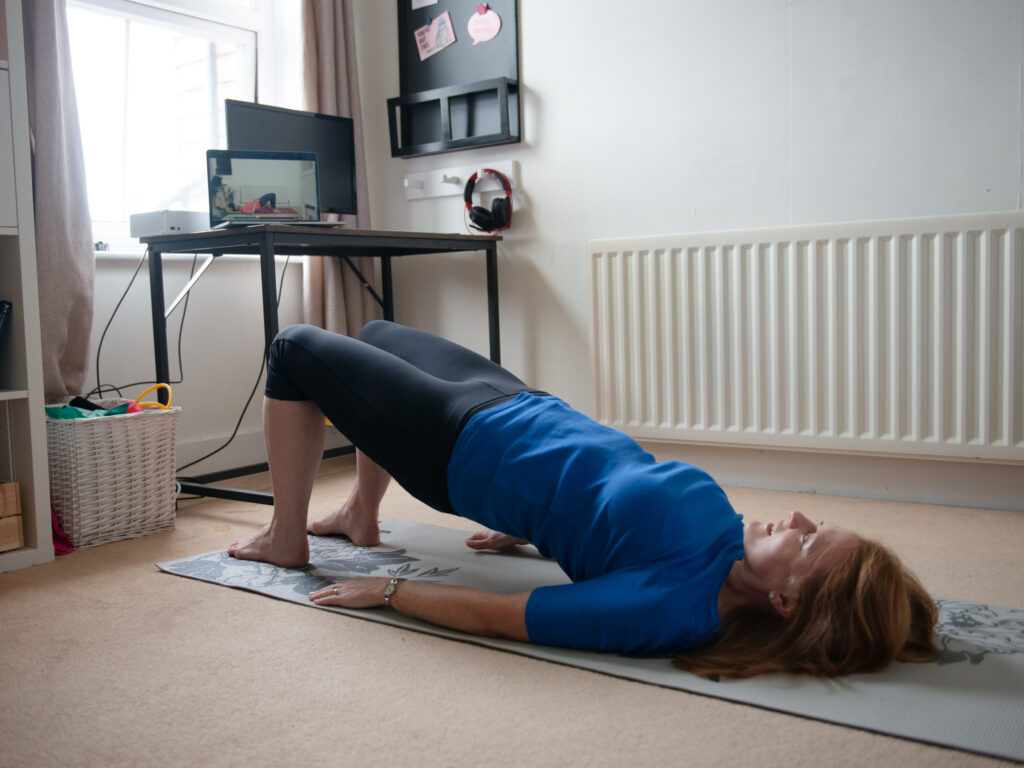 Especially when  I started looking into the stats for women's health.
In England and Wales, 1 in 3 women will sustain one or more osteoporotic fractures in their lifetime. 
And the impact on women's mortaility is real: for example, if a hip fracture is not addressed with surgery, the one year mortality rate is about 70%. 
It's harsh to read I know, but how transformational could it be for women in their 40s (and earlier!) if they were given the knowledge and tools to know what types of exercise had the best results when you're time poor and managing menopause.
So, after searching for the best training in Peri-Menopause Coaching, I signed up for the phenemonal 3rd Age programme with female fitness guru Jenny Burrell and Women's Health Physio extraordinaire Michelle Lyons. It delved into the science and evidence behind which movement, nutritional and mindset strategies got the best health and fitness outcomes for women  through peri-menopause and beyond. 
I then added even more training with Rachel Holmes, the well known fitness presenter. and became a Menofit (TM) instructor.
Once I graduated, I collated all this knowledge, added my 18 years' experience of training women in fitness,  to be able to offer you this 14 Day Online  Menofit (TM) Program starting Saturday 4th November 2023.
Menofit (TM) 14 Day Bootcamp
This program is truly a Midlife Reset, to help you create a daily exercise routine, manage menopausal symptoms and build healthy eating habits whilst having fun and feeling fully supported: you are not alone! 
This is a 14 Day Online Programme comprising:
*Daily 15 – 20 Menopause Friendly MenoFit™ – All New Workouts
*Daily Nutrition Protocol
*Meal Plan and Recipe Ideas
*Your bespoke Members Area
*Daily Coaching All Recorded
*Meno Menu Ideas.
*All Recorded So It Fits Into YOUR Routine.
"Training with Jules has changed my life! 
I have gained health tips, sleep tips and advice on nutrition that is tailored to my needs.
I feel much more comfortable in my own skin and able to make guilt free good life choices.
I have nothing but huge thanks for having the opportunity to train with such an inspirational coach as Julia. 
Join now – you won't regret it!"
Jane Shannon, Devon
"The live zoom classes enable me to commit to a programme.
By doing them from home or wherever I am,  I feel the support of Julia and the group but don't have to worry about how I look or if I am not feeling 100%.
And if life gets in the way, as it sometimes does, I can catch up later.'
G Randall, Hampshire
Let Me Show You A Little Bit More About The Programme...
Inside the programme you'll have 14 days of workouts, nutritional advice and menopausal symptom support so you can manage midlife better.
Sample Workout Timetable (may differ)
Monday Walkfit Party
Tuesday Legs & Abs
Wed Super Core
Thurs Legs Bums & Tums
Fri LIIT/HIIT
Sat Fitness Pilates 45 minute Class
Sun Brainfit & Mindfulness 40 minute Class .
Monday Arms & Abs
Tuesday Midsection Meltdown
Wednesday Meno Glutes
Thursday Shoulders & Abs
Friday Fitness Pilates Posture
Sat Flex Towel Mobility
Sunday  Funk it Dance Fitness
Community
There will be a whatsapp or Facebook group where we can support each other and share the Menofit (TM) fun!
Plus Daily Lifestyle, Healthy Habits, Nutrition Videos (days may vary)
Day 1 Nutrition
Day 2 Meno Meal Planning & Food Prep
Day 3 How To Have Happy Hormones
Day 4 Vital Vitamins For Menopause
Day 5 Midsection Weight Gain and Weight Loss
Day 6 How To Stop Nighttime Nibbling.
Day 7 Menopausal Emotional & Stress Eating.
Day 8 Meno Symptoms
Day 8 The Tricks To Improve your sleep DRASTICALLY.
Day 9 Creating A Weightloss Blue Print.
Day 10 Brainfog, Food & Mood.
Day 11 Vital Vitamins For Menopause.
Day 12 Calories v Healthy Habits For The Win
Day 13 Meno Workouts For The win
Day 14 How To Put Everything Together for the Future
PLUS The Meno Menu Recipes
Daily Tips and Accountability Coaching
Menofit (TM) Coach in your Pocket
I'll also be available to you via the group or by email to answer any questions (in office hours).
The Menofit 14 Day Programme Is Different To Any Programme You've Tried Before:

A variety of  exercises designed specifically to help you manage symptoms of peri menopause and beyond

Functional based  moves which will support you in your every day movements

A motivating selection of Pworkouts  so you don't get bored and give up

 Choose to do it when you like – as the workouts are pre recorded you can do them at a time to suit you

JOYful movement – if it's fun, you'll want to come back for more – go YOU and those regular workouts!

Me to help motivate you and keep you going via our online group or email

Modifications, warm ups and cool down releases to keep your joints happy and those niggles at bay

Results based workouts which target your mid life wellness

Workouts designed by me, your Menofit (TM) Coach with 18 years' experience teaching fitness to 100s of women

The reassurance of a full health screening before you join

Support and motivation via our online group of like minded women

I see you: I only take a limited number of women on board so I can get to know you – you won't get lost in the crowd
"Wow Julia, I can't tell you how much better my neck is after your Pilates workout yesterday!"
A Chapman
"I would quite often fit one of Jules' sessions in when the rest of the family were getting up in the morning, this gave me a really positive and energetic start to the day.'"
And there's another little secret ingredient for you (and this is the only Menopausal programme of its kind which has this type of offering):
a fun Funk it workout to take you back to your clubbing floor days and reignite the dancing diva in you!

Oh and as this is a truly holistic programme…
additional advice on how to reach your full happiness potential through creating new healthful habits, optimal sleep, hormone harmony, relaxation techniques and more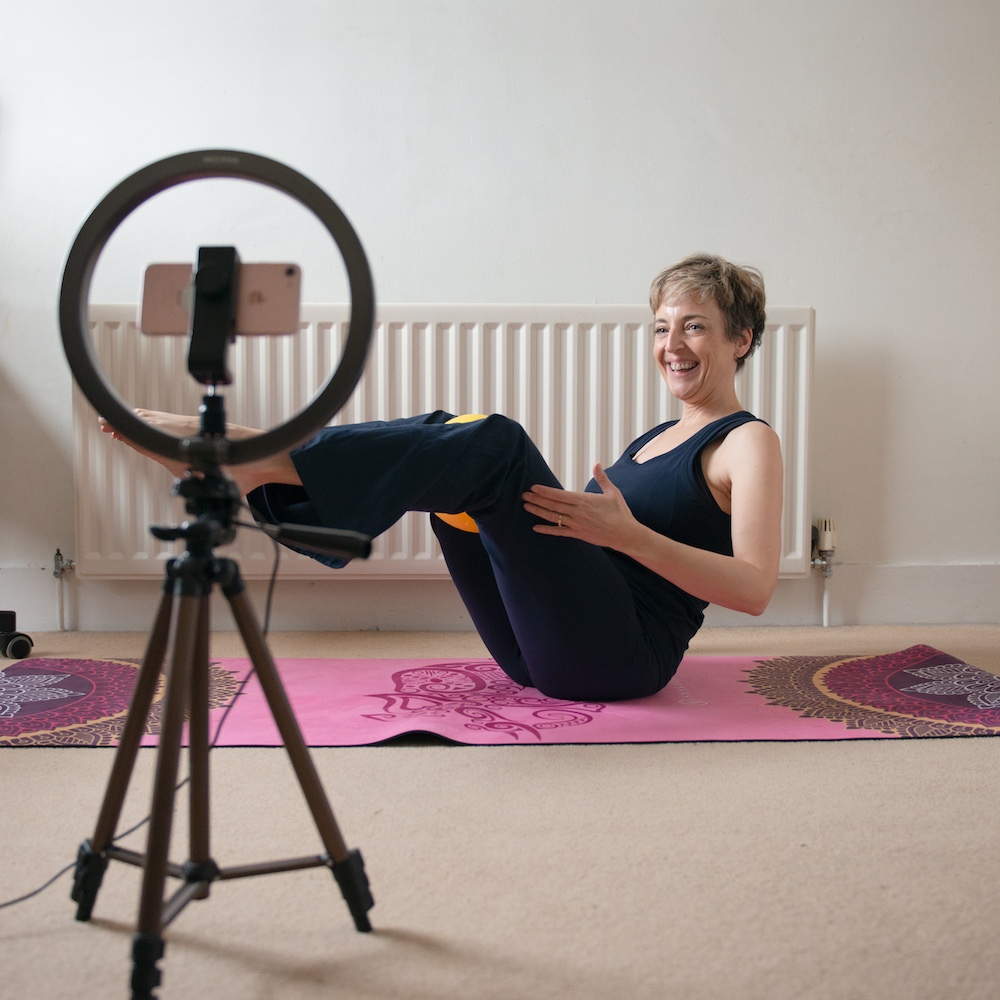 How much does it cost?
The 14 day programme costs £37.
Please see T&Cs.
What will I need?
You'll need handweights (or bottles of water!), a small pilates ball (23cm / 9 inches) (or cushion!) , two tennis balls and a light resistance band. If you need any help sourcing these items let me know.
You'll also need a yoga mat, & a laptop or tablet which you can place in an area of your home suitable for exercising. 
To be informed as soon as booking for the next Menofit™ 14 Day Bootcamp opens join the waitlist below.
NB: If you , are pregnant or early post natal, these workouts aren't suitable. 
You will need to complete a health form to check this is the right programme for you. If not, Julia Willmott may suggest a 1:1 programme if more suitable, or sign post you to another practitioner to help with any specific health issue if she feels the programme isn't be suitable for you.
(Please note that you will only have access to the videos for the duration of the 14 dat programme), but you will have the opportunity to join my Menofit™ With Jules Membership which will give you continued access to this course PLUS LOTS MORE.
Julia always keeps us motivated
"Julia always keeps us motivated and reminds us of when the classes are on through regular WhatsApp messages." - Jo Watts
Julia also invites inspirational wellness speakers
"Julia also invites inspirational wellness speakers to talk to us on our zoom Mojo Cafes."
Julia constantly checks in and motivates the group
"Julia constantly checks in and motivates the group, giving us useful tips and life hacks which I find extremely helpful. "
I love the combination of Hiit
"I love the combination of Hiit, dance and Pilates workouts (for all abilities) and the flexibility of doing them when it suits me in the comfort of my own home." - Jane Shannon
I've recently delved into the Mojo Cafes
"I've recently delved into the Mojo Cafes with their menopause tips and recipe ideas which I'll definitely be exploring more."
Jules is encouraging and enthusiastic
"Jules is encouraging and enthusiastic, she talks you through all of the different moves with very clear instructions and always provides alternatives when and if needed."
There's an excellent range of workouts
"There's an excellent range of workouts in HIIT, Pilates and Funk It, with varying levels of impact and challenge." - Michelle Robinson
fun and challenging
"If you are looking for a fun and challenging workouts then Jules is the lady to gently guide you on the way to feeling great!"
muscle definition
"The muscle definition in my arms and legs has also been noticeable, my legs feel stronger and I can now run further for longer."
Having completed the HIIT six week
"Having completed the HIIT six week programme, I can proudly say that I have doubled the ammount of push-ups I can complete in a minute."